Voluntary Water Sharing Program
Since April 2021, a diverse group of stakeholders in the Russian River watershed have met to develop a Voluntary Water Sharing Program for the Upper Russian River. The program will provide water users in the Russian River watershed an alternative to curtailment of their water diversion and use. Participants will enroll in the program by reviewing and signing an agreement, a draft of which is available for review and input. The State Water Board is hosting this website to provide a means for making materials available to interested water right holders and the public.
See Russian River Drought Response Webpage.
See Section 877.4 of the proposed 2022 Russian River Drought Regulation for how this program may be incorporated into implementation of the regulation.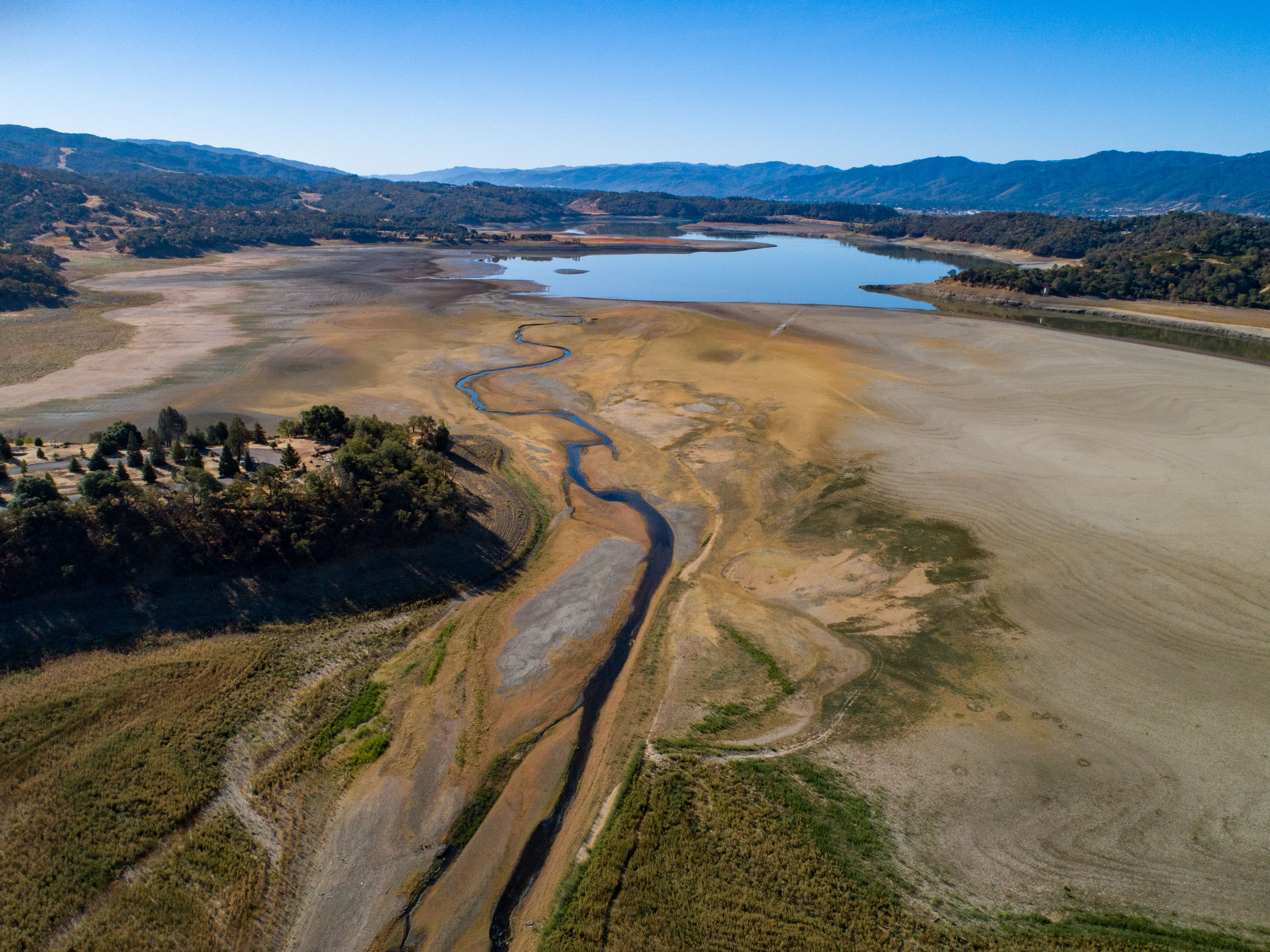 Lake Mendocino 2021
Photo credit: CA Dept of Water Resources
Announcements
August 5, 2022 - Temporary Program Suspension
The Federal Energy Regulatory Commission issued an order to PG&E Company on July 27, 2022, approving a variance that substantially reduces flows from the Potter Valley Project to the Russian River Watershed. Based on current conditions and analyses described in Exhibit B to the Russian River VSA, there is insufficient supply available for sharing. The Division has determined that continued diversions under the VSA threaten to adversely affect the availability of water for non-participants. Within 14 days of this announcement, VSA participants must reduce or cease diversions in accordance with the curtailment status for their right, as identified on the Curtailment Status List posted on the Russian River Drought Response webpage. The Division will continue to monitor conditions and assess whether curtailment exceptions for VSA participants could resume.

Lake Mendocino 2021
Photo credit: Russian River Confluence Fall 2021
Voluntary Water Sharing Program
Documents
Events and Outreach
April 14, 2022 - Santa Rosa Workshop | Presentation Slides
June 7, 2022 - State Water Board Meeting - Consideration of a Proposed Resolution approving a Voluntary Water Sharing Agreement | Agenda Item | Media Release
August 8, 2022 - Monthly Program Meeting - VSA Monthly Reporting Walkthrough | Presentation Slides
Voluntary Program Monthly Meetings
The State Water Resources Control Board's Division of Water Rights will host virtual monthly meetings for VSA participants to discuss the program and analyze data on water supply and demand in the Upper Russian River. Meetings may include discussions with State Water Board staff on the monthly status of the program, reports, and management strategies to adapt to any changing conditions on the Upper Russian River Watershed.
September Meeting
September 12, 2022 at 3:30pm via Zoom
August Meeting
August 8, 2022 at 3:30pm via Zoom
July Meeting
July 11, 2022 at 3:30pm via Zoom
VSA Forbearance Thresholds
Stay informed
Email Subscription List
Subscribe to the Russian River Drought email list to receive notifications and the latest updates.
Check your email account for a confirmation email to complete your subscription.