2016 CA Water Board Data Innovation Challenge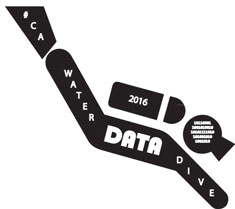 The Water Boards' Office of Information Management and Analysis (OIMA) hosted a Data Innovation Challenge this spring. The event culminated on April 22, with presentation and judging of the entries.
The focus was on creating apps, visualizations, and other tools that can help better harness data that is currently available. Generally, state government projects and products fail to share; disseminate; or make use, to its potential, the large amount of data that the government itself maintains. One of the aims of this event was to create products that demonstrate the use of data beyond what is currently being done. Data from the Water Boards' CEDEN, SMARTS and CIWQS databases (see below) was highlighted, but participants were not required to use that data in the challenge.
This event also kicked-off the first phase of the Water Boards'; Open Data Initiative, which includes making data from three systems available through an open data platform. Future phases will include adding additional datasets and the development of additional tools for enhanced data access, integration, and visualization.
Winners
First Place: Aggregating Municipal and State Open Data for Water Quality Investigations, by CloudCompli,Inc. and Orange County Public Works
Runner Up: CA H2Open, by UC Davis Center for Water-Energy Efficiency
All Entries
The following table contains lists all of the entries received for the 2016 Data Innovation Challenge along with links to their submissions and presentations at the closing ceremony. In addition, a complete list of entries with descriptions of each project, a list of all datasets used, and links to the submissions can be accessed through the Excel file available below. Recordings of the introduction and closing statements at the closing ceremony are also available at the links below
Project Title
Team Members
Organization / Affiliation
Submission
Presentation
Presentation Slides

WINNER:
Aggregating Municipal and State Open Data for Water Quality Investigations

Eric Bollens, Grant Sharp, Jason Locklin, Jonny Sandu, Justin Grewal, Amanda Iaali, Kelvin Liu, Bryan Pastor

CloudCompli, Inc. / Orange County Public Works

RUNNER UP:
CA H2Open

Andrew Holguin, Yoni Ackerman, Frank Loge, Edward Spang

UC Davis Center for Water-Energy Efficiency

Application: CA H2Open

Source Code:
https://github.com/ucd-cwee/greengov-challenge

Microsoft Cortana Intelligence

Michael Cruz

Microsoft

Application: Microsoft Cortana Intelligence

The Dams of California

Roy Fleshman

-

Application: The Dams of California

Preliminary Analysis of Surface Water Toxicity Dataset

Travis Ludlum

-

See slides

Demographic and Water Data Demonstration

Cyrus Pinto, Mike Dougherty, Joel Natividad, Aykut Simsek, Sami Baig, Andrew Blythe

OpenGov

Application: California Water Quality

Application: Water Data With Demographics

Dashboard on Efficiency and Bioassessment in Water Quality Enforcement

Mark Tompkins, Seth Lalonde, Mike Urkov

FlowWest

Application: Efficiency and Bioassessment in Water Quality Enforcement

-

Endora

Alberto Curiel, Adrian Alvarez

-

See slides

Tableau: Water Acidity

Gustavo Iturriaga; Eduardo Parra

Taborda Solutions

Application: Water Acidity

-
Contest Judging
The judging panel was made up by:
Melanie Askay | Environmental Scientist, S.D. Bechtel, Jr. Foundation; Stephen Bechtel Fund
Brian Currier / Christian Carleton | Research Engineer, Office of Water Programs, California State University, Sacramento
Tam Doduc | Board Member, State Water Resources Control Board
Stuart Drown | Deputy Secretary for Innovation and Accountability, California Government Operations Agency
Additional information on the judges can be accessed through the file below.
The judging panel evaluated the entries based on the following criteria:
Technical competence and capabilities (50%): The solution addresses the primary goals of the Data Innovation Challenge. It is a product that can provide insightful analysis and show the California State Water Resources Control Boards how to enhance/improve existing functions, share data across agencies, and/or more efficiently utilize existing data and applications. Additionally, the solution is easy to navigate and intuitive, and is inclusive of a range of audiences.
Use of data to provide effective outcomes (20%): The solution makes use of multiple datasets (including data in the GreenGov Open Data Portal and/or data from other publicly available sources), and displays that data in a way that is easy to understand, visually appealing, and will help drive understanding of current trends as well as development of recommendations. User-friendliness, usability, and accessibility of the solution will also be considered.
Creativity/Innovation (20%): The solution makes an impact and exceeds any existing internal capability that the California State Water Resources Control Boards have for analysis of data through its incorporation of creative design elements and innovative capabilities. The goal is clearl stated and unique, and there is a real-world potential to produce a breakthrough or a major change that would improve the state's operations or lead to new insights. Sustainability of implementing the Innovation may also be considered.
Valuable information and insights regarding data (10%): The Entrant provides recommendations for additional data elements to be collected by the Water Boards and/or identifies gaps in the data and utilizes multiple data sources and research to aid the Water Boards in setting future data collection policies.
Highlighted Datasets
The California Environmental Data Exchange Network (CEDEN)
The CEDEN database contains field, chemistry, sediment and water column toxicity, tissue, taxonomy and benthic data. The data are collected by a large variety of environmental monitoring programs throughout California that monitor streams, lakes, rivers, and the coastal ocean. It includes quality assurance-related data.
Stormwater Multiple Application and Report Tracking System (SMARTS)
The SMARTS database primarily houses regulatory data (such as what sites are covered by a permit, when permit coverage began at the site, the dates of Water Board inspections, and the number and types of violations found at regulated sites) for the statewide general construction, industrial and small municipal stormwater permits, It also contains stormwater quality data for those sites that file their annual reports electronically.
California Integrated Water Quality System Project (CIWQS)
CIWQS is used by the State and Regional Water Quality Control Boards to track regulatory information about other programs, such as the National Pollution Discharge Elimination System (NPDES) permits and waste dischargers to land. It also contains self-monitoring report data generally submitted by NPDES dischargers and sanitary sewer system spill data submitted by sanitary sewer system operators.
Next Steps
OIMA will be hosting a Water Quality Science Symposium on June 29, 2016. This event provides the link between the science and the data. It will be an annual event to highlight surface water quality data, insights and interests in California, with a goal to better connect data, information, and knowledge to water quality stakeholders and decision makers. The winner and the runner up from this data innovation challenge will have an opportunity to present at the symposium.
Go to Eventbrite for free registration at: https://www.eventbrite.com/e/1st-annual-water-quality-science-symposium-presented-by-swamp-registration-24122615392
Contacts
For more information please contact: