On September 25, 2012, Governor Edmund G. Brown Jr. signed Assembly Bill (AB) 685, making California the first state in the nation to legislatively recognize the human right to water.

Now in the Water Code as Section 106.3, the state statutorily recognizes that "every human being has the right to safe, clean, affordable, and accessible water adequate for human consumption, cooking, and sanitary purposes." The human right to water extends to all Californians, including disadvantaged individuals and groups and communities in rural and urban areas. Show More | Show Less
The following is a list of updates that have been made to the Portal as of 02/8/2019:
---
Posted a current summary of water system's exceedance/compliance status (Excel file) in the Compliance Status tab
Posted detailed exceedance/compliance issues data (Excel files) in the Water Data tab
1,2,3 TCP violations are now included in the datasets. Because of this, the number of water systems out of compliance has increased significantly
Beginning on January 1, 2019, data on the spreadsheets listed above will be updated every two months
Public Water System Compliance Status
---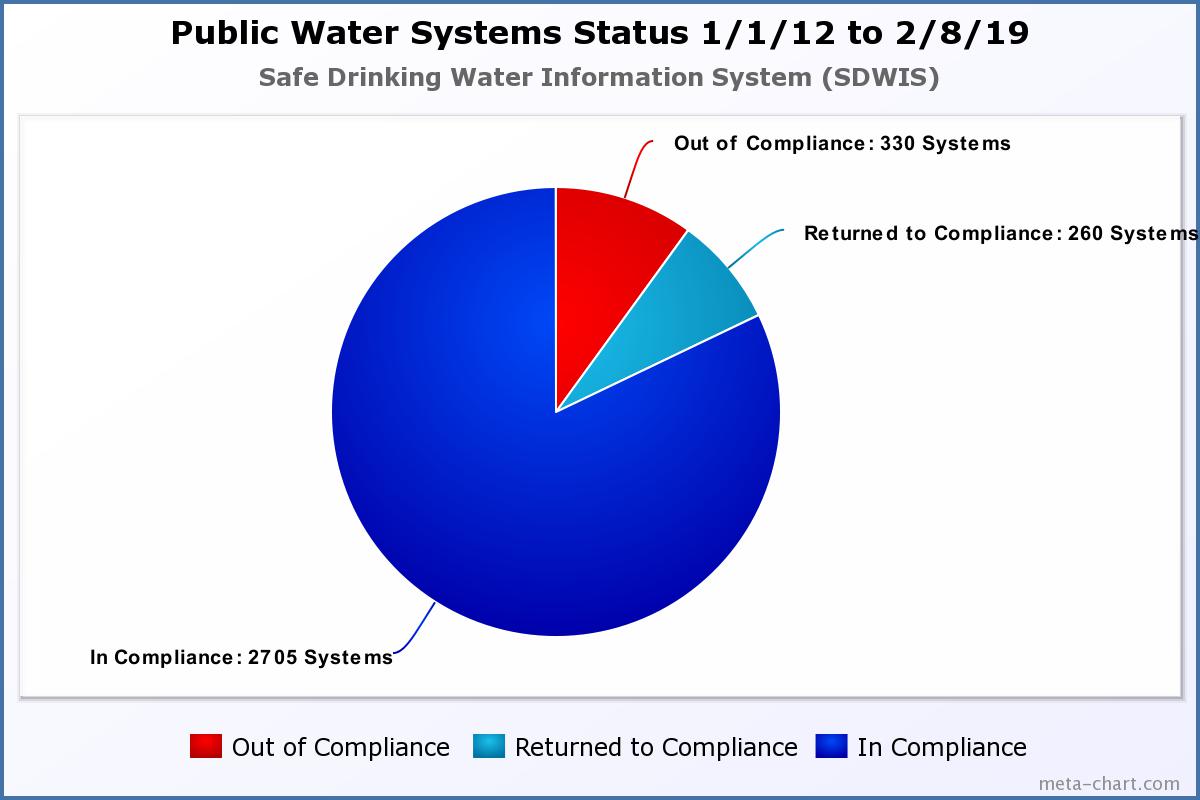 Drinking Water Map Information
---


Affordable
(estimated completion 2018)


Accessible
(coming in 2018)
Water System Drinking Water Data
---
Funding Resources for Drinking Water Projects
---
Division of Financial Assistance (DFA) Application Status Search

The application status tool allows users to search the status of drinking water and clean water applications that have been submitted for funding consideration and are under review. Applicants who have received a funding agreement are not on this report.



Drinking Water Application Status Report

DFA assists public water systems in financing the cost of drinking water infrastructure projects needed to achieve or maintain compliance with Safe Drinking Water Act requirements.




Proposition 1 Technical Assistance (TA) Funding Program

The Proposition 1 (Prop 1) TA Program is available to help small (less than 10,000 people) disadvantaged communities develop, fund, and implement Prop 1 eligible drinking water, wastewater, storm water, or groundwater capital projects. In addition to Prop 1 TA, DFA also manages the DWSRF set-aside funding for training and non-capital project development such as, compliance audits, rate studies, and income surveys to small public water systems.



List of Water Systems Receiving Interim Bottled Water/POU


Central Coast Regional Water Board Domestic Well Testing Project

The Central Coast Regional Water Quality Control Board is providing free water quality testing for residents that get their drinking water from domestic wells to inform them about potential health risks associated with nitrate contamination and other harmful chemicals that may be present in their drinking water.
---
Disclaimer: The contents of external Websites and/or documents displayed here do not necessarily reflect the views and policies of the State Water Resources Control Board, nor does mention of trade names or commercial products constitute any endorsement or recommendation for use. The State Water Resources Control Board is not responsible for the updating or maintenance of any listed external Websites. Please check with the appropriate organization for any changes.