Sacramento-San Joaquin Delta Watershed Drought & Curtailment Information
The Sacramento-San Joaquin Delta (Delta) watershed is a crucial source of water for much of California for people and the environment. The Delta watershed comprises approximately 20 percent of California's land mass and constitutes the state's largest source of surface water supplying a portion of the water supply to two-thirds of Californians and millions of acres of farmland. The Delta is also home to numerous fish, wildlife, and plant species of very high ecological, economic, and cultural importance.
The Delta watershed and all of California is experiencing a second consecutive year of dry conditions, which has resulted in drought or near-drought conditions throughout the state. The combination of unusually low precipitation, warm temperatures, and dry soils have resulted in unprecedented low runoff from the Sierra-Cascade snowpack, resulting in significant reductions in water supplies and extreme low reservoir storage levels. In recognition of these dry conditions, on May 10, 2021, Governor Newsom declared a drought emergency for 41 counties, including those within the Delta watershed, outlining various actions that the State Water Board and other agencies should take or consider, including curtailments to prohibit diversions when water is not available at a water right holder's or claimant's priority of right.
Announcements
Deadlines to Complete Forms Extended (September 3, 2021)
Tutorials Available for Checking the Curtailment Status List and Completing All Required and Optional Forms in Response to the Curtailment and Reporting Orders (September 1, 2021)
Videos Available for Curtailment Compliance and Response Assistance Webinar (Morning Session and Afternoon Session) (August 31, 2021)
Delta Watershed Curtailment Status List
This serves as a water right curtailment order.
The list below shows the curtailment status of each water right and claim in the Delta watershed (including the Sacramento and San Joaquin River watersheds). This curtailment order is authorized by the emergency regulation adopted by the State Water Board on August 3, 2021, and approved by the Office of Administrative Law on August 19, 2021. (Cal. Code Regs., tit. 23, §§ 876-879.2.)
Curtailment List
A status in red means the identified water right or claim of right is curtailed during the specified time period and water is not authorized for diversion unless an exception applies (please refer to the Emergency Regulation text to see if you qualify for an exception). A status in green means the identified water right or claim of right is not curtailed during the specified time period. Diverters who claim both riparian and pre-1914 appropriative water right claims under the same Statement of Diversion and Use are treated solely as riparian claimants. You can search this list by water right identification number (water right ID), owner name, water right type, and location by subwatershed and the Legal Delta boundary. This list will be updated weekly, and more frequently if there are changes in precipitation and runoff.
Basis of Current Curtailments
The determination of water unavailability used to inform this curtailment order is based on the Delta Water Unavailability Methodology (Methodology). Documents describing the approach to assess water unavailability and the data used to support the determination are posted on the Water Unavailability Methodology webpage.
The following priorities of water rights and claims are curtailed for the month of September 2021, as identified on the Curtailment Status List below:
All post-1914 appropriative water rights in the San Joaquin River watershed;
All pre-1914 appropriative water right claims in the San Joaquin River watershed;
All riparian water right claims in the American River watershed upstream of Folsom Reservoir;
All riparian water right claims in the Calaveras subwatershed that are outside of the Legal Delta;*
A subset of Central Valley Project and State Water Project water rights in the Sacramento River watershed and in the Legal Delta; and
Pre-1914 claims and post-1914 appropriative rights on the following Sacramento River tributaries: 

Rights and claims in the Bear River subwatershed with a priority date of 1853 or later;
Rights and claims in the Yuba River subwatershed with a priority date of 1908 or later;
Rights and claims in the Putah Creek subwatershed with a priority date of 1923 or later;
Rights and claims in the Cache Creek subwatershed with a priority date of 1857 or later; and
Rights and claims in the Stony Creek subwatershed with a priority date of 1963 or later.
*These water right claims were not included with the hard copy orders that were mailed on August 20, 2021 (copies of which are posted on this webpage), but should be curtailed until further notice by the State Water Board. Because of deferred notice to riparian claimants with diversions in the Calaveras subwatershed that are outside of the Legal Delta, curtailment of these claims is required as soon as notice is provided but no later than August 27, 2021.
Note: In the curtailment status list below, claimed priority years that are previously shown as "Riparian/Pre-14" are now shown as "Riparian or Pre-14" for clarity. This change is solely cosmetic and does not change any water rights claims or curtailment decisions.
Curtailment statuses for October 2021 will be coming soon.
Delta Drought Response Resources
How to Conserve
Delta watershed residents can help! Surface and groundwater users can help lessen drought impacts, and even small efforts can result in huge benefits for flows and fish.
Here are just a few ways to help:
Reduce diversions from surface and groundwater sources
Conserve water, limit non-food irrigation, and reuse graywater (i.e., water from sinks, showers, baths, washing machines, or dishwashers)
Coordinate diversion timing with neighbors to reduce cumulative effects
Prepare for ongoing drought by exploring water storage options (e.g., rain collection, roofwater harvesting, or tank storage)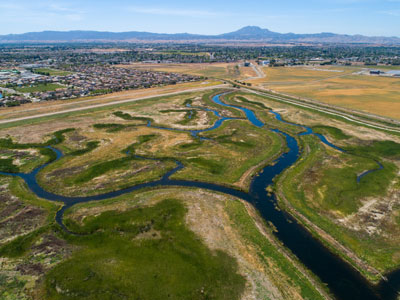 Dutch Slough, located in the Sacramento-San Joaquin Delta near Oakley, California.
Photo credit: CA Dept of Water Resources.
How to Report an Unauthorized Diversion or Water Waste

Visit the CalEPA Complaint System to report unauthorized diversions, such as violations of water right permits or diversions impacting fisheries.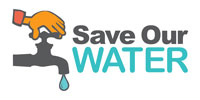 Visit savewater.ca.gov to report water waste, such as leaks and overwatering, to your local water agency.
Stay informed
Email Subscription List
Subscribe to the Delta Drought email list to receive notifications and the latest updates.
Check your email account for a confirmation email to complete your subscription.
If you would like to request a copy of written public comments submitted to the Board on an item noticed for public comment, please send a request to commentletters@waterboards.ca.gov, identifying the item as listed on the Notice or board meeting agenda by date, agenda item and number (if any). The Clerk of the Board will respond by sending a link to access them.