Federal Energy Regulatory Commission (FERC) Project No. 2997
Camp Far West Hydroelectric Project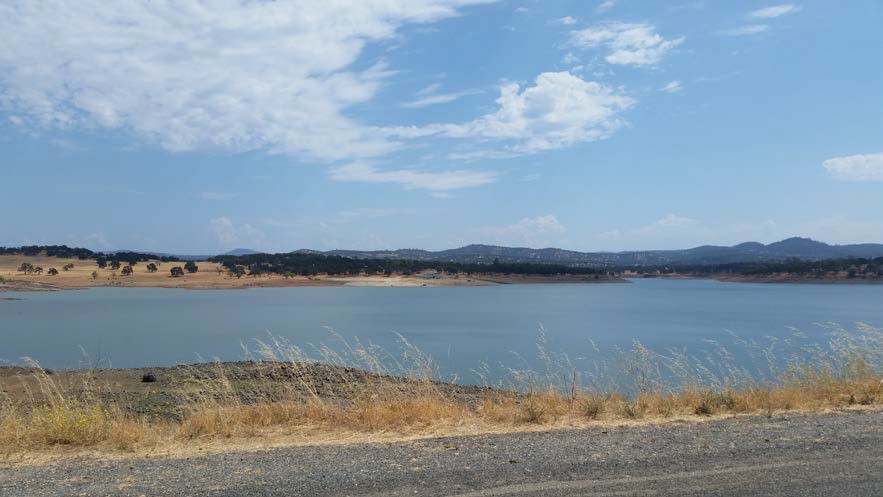 Camp Far West Reservoir
(Photo from South Sutter Water District's 2019 Application for New License)
Applicant: South Sutter Water District
County: Nevada, Yuba and Placer
License Expiration Date: April 30, 2013
Water Quality Certification Status: Final Certification issued May 16, 2022
Waterbodies: Bear River and Camp Far West Reservoir

Project Description:
The Camp Far West Hydroelectric Project (Project) FERC (Project No. 2997) is located in Nevada, Yuba and Placer Counties.
The Project consists of a 185-foot high earthen-fill dam which impounds a 104,000 acre-feet reservoir (Camp Far West Reservoir).  Camp Far West Reservoir has an ungated spillway with a crest length of 300 feet and an ungated 22-feet high vertical intake tower with three openings that diverts water to a 6,800-kilowatt powerhouse which is located directly below the dam on the Bear River.  The Project also includes a switchyard adjacent to the powerhouse and two developed recreation areas (North and South Shore Recreation Areas) located on Camp Far West Reservoir.
On June 28, 2019, South Sutter Water District filed an application with the Federal Energy Regulatory Commission for a new license for the Project.  In addition to continued operations, South Sutter Water District proposes: 1)  raising Camp Far West Dam's spillway crest by five feet which will allow Camp Far West Reservoir's normal mean water surface elevation to increase from 300 feet to 305 feet; 2)  modifying Project recreation facilities to replace or rehabilitate locations impacted by the increased reservoir water surface elevation; 3)  adding an additional existing Project road to the FERC license; and 4)  modifying the existing FERC Project Boundary.
Related Documents
Camp Far West Auxiliary Spillway Project Denial Without Prejudice of Water Quality Certification – February 15, 2023
Camp Far West Hydroelectric Project Final Water Quality Certification – May 16, 2022
Camp Far West Hydroelectric Project Draft Water Quality Certification - March 4, 2022
Public comments due by 5 p.m. on April 1, 2022
Public Notice for receipt of water quality certification application - June 18, 2021