Federal Energy Regulatory Commission (FERC) Project No. 2467
Project Name: Merced Falls Hydroelectric Project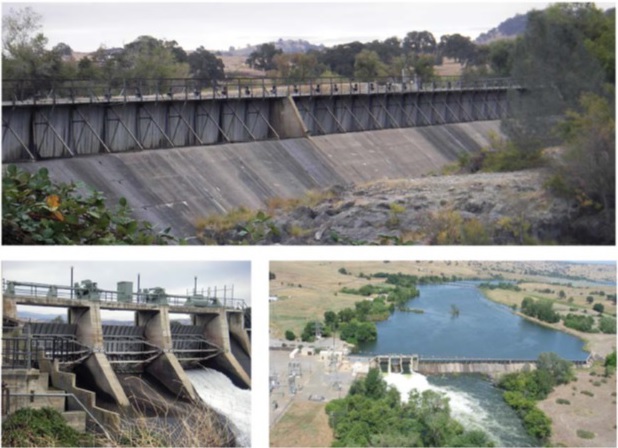 Merced Falls spill gates and impoundment
(Images courtesy of PG&E)
Applicant:
Merced Irrigation District (MID)
County:
Mariposa and Merced
License Expiration Date:
February 28, 2014
Water Quality Certification Status:
Issued July 31, 2020
Waterbodies:
Merced River
FERC Licensing Process:
Integrated Licensing Process
Project Description:
The Merced Falls Hydroelectric Project (Project) is located on the Merced River in Mariposa and Merced Counties, California. The 3.4 megawatt Project consists of one power generating development with a 65 surface acre impoundment with an approximate storage capacity of 678 acre-feet of water; one powerhouse with associated switchyard; appurtenant facilities; and recreational facilities.
The powerhouse is operated as a run-of-the-river facility using water from the impoundment. Immediately upstream of the Project is the Merced River Hydroelectric Project, which is owned and operated by Merced Irrigation District (MID). Within the impoundment, water is diverted to MID's North Side Canal and two other private irrigation diversions. The majority of the lands are owned by MID. The Project also occupies land managed by the Bureau of Land Management, as well as other private landholders.
Related Documents