Federal Energy Regulatory Commission (FERC) Project No. 2179
Project Name: Merced River Hydroelectric Project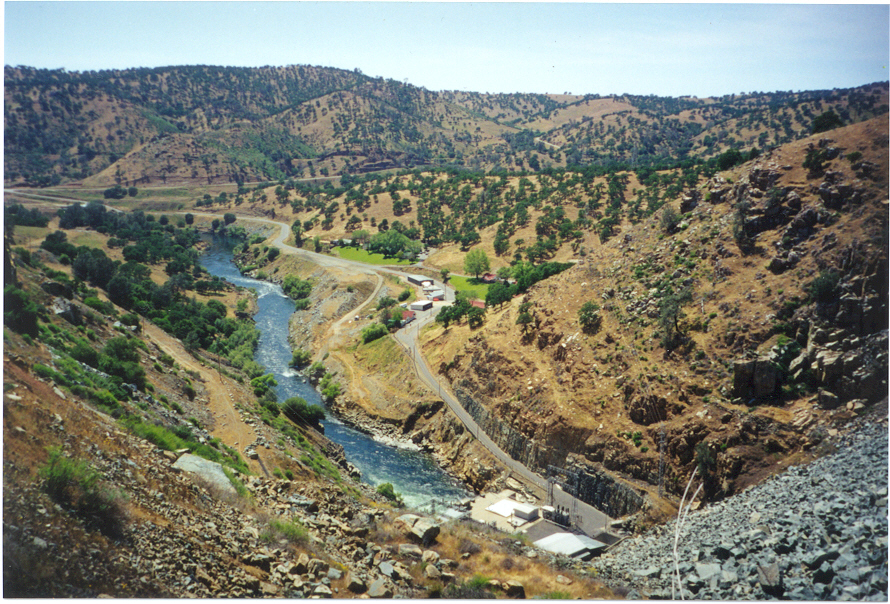 New Exchequer Dam and New Exchequer Powerhouse on Merced River
(Image courtesy of MID)
Applicant:
Merced Irrigation District (MID)
County:
Mariposa and Merced
License Expiration Date:
February 28, 2014
Water Quality Certification Status:
Issued July 31, 2020
Waterbodies:
Merced River and Deadman Creek
FERC Licensing Process:
Integrated Licensing Process
Project Description:
MID proposes to continue to operate its existing 103.5 megawatt Merced River Hydroelectric Project (Project), which is located on the Merced River and Deadman Creek in Mariposa and Merced counties, near the City of Merced in the San Joaquin River Basin. This combined purpose Project provides flood control in the lower Merced River, helps to meet MID's irrigation water demands, and provides energy to Central California. In order to continue operation of the Project, MID needs a new federal license from FERC. Part of the Project occupies 3,152.9 acres of federal land administered by the Bureau of Land Management. Prior to issuance of a new FERC license, MID must obtain a water quality certification (WQC) from the State Water Resources Control Board. The primary purpose of the WQC is to certify that the Project will comply with specified provisions of the Clean Water Act, including water quality standards and implementation plans promulgated pursuant to section 303 of the Clean Water Act.
MID diverts water from the Merced River for various beneficial uses. MID primarily operates the Project for agricultural irrigation, however, other beneficial uses include: hydropower, groundwater recharge, municipal and industrial use, landscape irrigation, and environmental. Project facilities and features included in the existing FERC license include two existing dams (New Exchequer and McSwain) and associated reservoirs with a combined storage of 1,034,330 acre-feet (AF) (Lake McClure and McSwain Reservoirs); two powerhouses (New Exchequer and McSwain); and five recreation areas. In addition, the existing license includes eight minor facilities (e.g., culverts and small structures) along MID's existing consumptive water system in Merced and Mariposa Counties. The minor facilities are associated with the delivery of water to the United States Fish and Wildlife Service's Merced National Wildlife Refuge. Downstream of MID's two hydropower dams are the Merced Falls Hydroelectric Project (a run-of-the-river facility owned and operated by Pacific Gas and Electric Company) and the Crocker-Huffman Diversion Dam (MID's diversion structure for its main canal). MID diversions also occur at the Merced Falls dam.
Existing Instream Flow Requirements
In addition to the minimum instream flows prescribed in the existing FERC license, MID also has the Cowell Adjudication Agreement (Cowell Agreement), the Davis-Grunsky contract, and water right license requirements. The Cowell Agreement is a contractual obligation with MID to provide water to certain downstream users. In 1926, the Merced County Superior Court (Court) ruled that MID's upstream diversions bypassed senior riparian water rights holders. The Court ordered MID to provide water downstream of Crocker-Huffman Dam for senior riparian water rights. In October 1967, MID and the California Department of Water Resources executed the Davis-Grunsky contract. As part the Davis-Grunsky contract MID agreed to maintain continuous flows of 180-220 cubic feet per second in the Merced River spawning area each year from November 1 to April 1. The Davis-Grunsky contract expires December 2017. In 2003, MID amended its water right license 2685, 6047, and 11395. The terms of the amended water right license require MID to 1) release an additional 12,500 AF of water annually in October; and 2) provide a volume of supplemental flow during a 31-day pulse flow period during April and May. The 12,500 AF are in addition to the FERC and Cowell minimum instream flow requirements.
Related Documents