GAMA - Priority Basin Project
The Priority Basin Project, started in 2002, provides a comprehensive assessment of statewide groundwater quality that helps identify and understand the risks to California's groundwater resources. The project assesses both deep and shallow groundwater resources through statistically reliable sampling methods. The State Water Board is collaborating with the U.S. Geological Survey (USGS) and Lawrence Livermore National Laboratory (LLNL) to implement the Priority Basin Project. The project consists of two phases:
The Public Supply Assessment focuses on assessing deep groundwater resources for public drinking water systems. The initial Public Supply Assessment baseline of 35 study units was completed from 2004 to 2012 and 5-year trend sampling is ongoing.

Map of Public Supply Assessment Study Units (Updated Jan. 2017)


The Shallow Aquifer Assessment focuses on assessing the quality of groundwater in shallow aquifers used by small systems and domestic wells. The Shallow Aquifer Assessment baseline began in 2012 and is ongoing.

Map of Shallow Aquifer Assessment Study Units (Updated Jan. 2017)
The Priority Basin Project helps reach the main GAMA Program goals by providing an assessment of current groundwater quality, identifying the natural and human factors affecting groundwater quality, detecting changes in groundwater quality over time, and providing the data to be included in the GAMA Groundwater Information System (GAMA GIS).
GAMA Program Publications online map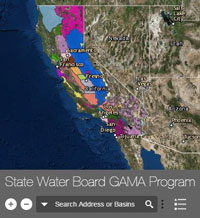 Access the interactive map to view reports
from shallow and deep aquifer assessments.
GAMA Public Advisory Committee (PAC)
The GAMA Program's Public Advisory Committee (PAC) is a group of advisory members from the scientific groundwater community legislatively tasked with guiding the GAMA Program. The State Water Board GAMA Program convenes the PAC when program direction is requested. The last PAC meeting was held June 14, 2023, to advise the program's direction for its upcoming third decadal phase.
The first decadal phase assessed the quality of groundwater used for public drinking water supply and the second decadal phase assessed groundwater used for domestic and small system drinking water supplies. At the June PAC meeting, discussion included whether the GAMA Priority Basin Project should shift to its third decadal phase (beginning July 2024) by assessing the drivers of groundwater change, while continuing trends and shallow aquifer sampling on a reduced level. Example studies include assessing how recharge water quality affects groundwater quality, assessing the timing and magnitude of groundwater quality change in the shallow groundwater zone because of changes in loading, assessing seawater intrusion and groundwater level changes along the Central Coast, and the continued creation of publicly accessible online tools focusing on groundwater reliability in different geologic, geochemical, and hydrologic conditions by assessing age, isotopic, land use, and other data.
The recording of this meeting is below. If you have any comments or questions, please reach out anytime to gama@waterboards.ca.gov.
What is a Priority Basin?
The Groundwater Quality Monitoring Act of 2001 (Water Code Sections 10780-10782.3) otherwise known as AB 599 resulted in a publicly accepted plan to monitor and assess the quality of all priority groundwater basins that account for over 90% of all groundwater used in the state. The plan prioritizes groundwater basins for assessment based on groundwater use across the state.
GAMA Priority Basins consist of 116 of the 472 Department of Water Resources (DWR) defined groundwater basins in the state. GAMA Priority Basins are defined as groundwater basins that account for approximately:
95 percent of all public supply wells
99 percent of all municipal groundwater pumping
90 percent of agricultural groundwater withdrawals
90 percent of all leaking underground storage tank sites
90 percent of all pesticide application in the state
60 percent of the land area in California
Many public supply wells are located outside the boundaries of a defined groundwater basin. To address these wells, the GAMA Priority Basin Project has included areas outside of DWR-defined basins such as areas of the Sierra Nevada and Mojave Desert.
Map of GAMA Priority Basins (Updated Dec. 2016)
Priority Basin Project-Chemicals of Concern
The GAMA Priority Basin Project samples wells for common contaminants and non-regulated constituents. Testing for these chemical constituents (often at levels well below standard methods) will assist public and private groundwater stakeholders in managing valuable California's groundwater resources.
Some of the chemical constituents that are routinely sampled by GAMA include:
Low-level VOCs and pesticides.
Stable isotopes, deuterium, and oxygen-18.
Tritium-helium/noble gases.
Emerging contaminants;

Potential wastewater indicators, pharmaceuticals, perchlorate, 1,4-dioxane, chromium (total and VI)

Carbon isotopes (C-13, C14).
Radon, radium, and gross alpha/beta radioactivity.
Field parameters; temperature, electric conductivity, dissolved oxygen, turbidity, pH, and alkalinity.
Major ions and trace elements.
Arsenic and iron speciation.
Nutrients (nitrate and phosphates).
Dissolved organic carbon.
Total fecal coliform bacteria.
The Priority Basin Project assessments compare constituent concentrations in untreated groundwater to benchmarks established for the protection of human health and for aesthetic concerns. The Priority Basin Project does not evaluate the quality of drinking water.
Priority Basin Project-Publications
Several levels of reporting occur for both the deep and shallow aquifer assessments.
The Data Summary Report (DSR) is the first report to be published. The DSR defines and explains the study unit area and design, and summarizes the data collected and quality assured in each study unit. USGS is beginning to implement Data Releases in place of DSRs. Data Releases are web-based reports that include study unit design, spatial data, and water quality data available for download. A fact sheet will accompany the Data Releases.
The Scientific Investigation Report (SIR-also known as the Assessment Report) is the second report that is released approximately 9 to 12 months later. The SIR uses the data specifically collected and analyzed for these studies and also incorporates data submitted to the State Water Board's Division of Drinking Water (formerly under the CA Department of Public Health). Integrating this data provides a better understanding of the raw groundwater quality in the study unit, assessing the current groundwater quality and any natural or human factors that affect it.
A second fact sheet is simultaneously published with the SIR which provides a condensed, graphic explanation of the SIR.
Visit the GAMA Program Publications online map to spatially view study units and access available publications for each study unit.
All publications are also available through the USGS GAMA webpage.