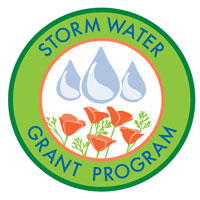 Storm Water Grant Program (SWGP)
Mission
The mission of the Storm Water Grant Program (SWGP) is to promote the beneficial use of storm water and dry weather runoff in California by providing financial assistance to eligible applicants for projects that provide multiple benefits while improving water quality.
Vision
Our vision is to change the perception of storm water and dry weather runoff as a contaminant source to a valuable resource, to recharge groundwater aquifers, reuse for domestic purposes, support watershed processes, and beautify communities creating habitat and open spaces.
Program Purpose
The purpose of the SWGP is to fund storm water and dry weather runoff projects that best advance the Water Board's policy goals of improving water quality and realizing multiple benefits from the use of storm water and dry weather runoff as a resource.
In November 2014, California voters approved Prop 1, Water Quality, Supply and Infrastructure Improvement Act of 2014. More information on upcoming Prop 1 activity and announcements can be found at: SWGP Prop 1 Funding.
The SWGP Unit was established after the passage of Proposition 84 (Prop 84), the Safe Drinking Water, Water Quality and Supply, Flood Control, River and Coastal Protection Bond Act of 2006. More information on Prop 84 can be found at: SWGP Prop 84 Funding.
Resources
Contact Information
For general inquiries, contact us at: swgp@waterboards.ca.gov
Daman Badyal, P.E.
Senior Water Resources Control Engineer
Storm Water Grant Program
Damanvir.Badyal@waterboards.ca.gov
(916) 319-9436
Division of Financial Assistance
Storm Water Grant Program
State Water Resources Control Board
P.O. Box 944212
Sacramento, CA 94244-2120
(Page last updated 10/15/18)
Grants and Loans Resources
Water is a precious resource in California, and maintaining its quality is of utmost importance to safeguard the health of the public and the environment.

.