Russian River Drought Response
Governor Newsom declared a drought emergency in Sonoma and Mendocino Counties largely due to abnormally dry conditions in the Russian River watershed. The watershed is home to 360,000 people and provides water for municipal and private wells, agriculture, wineries and recreation. As the region's drought situation worsens, local and state governments and community members are collaborating to address water shortages.
Below are links to important information regarding drought activities in the Russian River.
Information on drought funding opportunities
Water Right Form and Survey Submittal Portal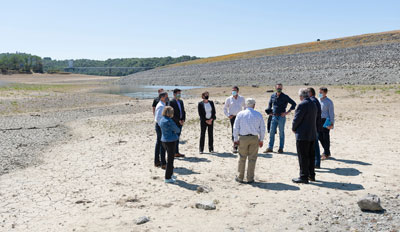 Government officials on the dry floor of Lake Mendocino ahead of a press conference on April 21, 2021.
Photo credit: CA Dept of Water Resources
Announcements
June 15, 2022 - Curtailment Status Update
The Division of Water Rights issued Orders Regarding Curtailment Status to all water right holders in the Russian River Watershed. Notice of individual curtailment status will not be mailed out and updates will be announced via our email distribution list and this webpage. Please check the Curtailment Status List available below for the curtailment status of your individual water right.
June 1, 2022 - Proposed Emergency Regulation Approved by OAL
On May 17, 2022, revised emergency regulation was submitted to the Office of Administrative Law for review. On May 31, 2022, the Office of Administrative Law approved the emergency regulatory action, effective immediately. To access the approved emergency regulation, please visit the Emergency Regulation section below.
Russian River Watershed Curtailment Status List
The list below shows the curtailment status of each water right and claim in the Russian River watershed.
This curtailment order is authorized by the emergency regulation adopted by the State Water Board on May 10, 2022, and approved by the Office of Administrative Law on June 1, 2022. (Cal. Code Regs., tit. 23, §§ 875.5-879.3.)
Curtailment status should not be construed as a validation of water right claims or an authorization to divert. Existing constraints on water right permits and licenses, such as seasonal diversion restrictions and bypass flow requirements, remain in effect. In addition, all water right holders and claimants may only divert under valid water rights and are not authorized to divert if it would result in injury to other water users.
Curtailment Status List
A status in red means the identified water right or claim of right is currently curtailed or reduced during the specified period and water is not authorized for diversion unless an exception applies (please refer to the Emergency Regulation text to see if you qualify for an exception). A status in green means the identified water right or claim of right is not curtailed during the specified period and may divert as authorized by that water right. Riparian diversions may not exceed the assigned water budget as provided in the Order Regarding Curtailment Status. Updates to the Curtailment Status List shall be construed as binding orders from the State Water Board to cease or limit diversions accordingly and shall be effective the day after posting (Cal. Code Regs., tit. 23, §§ 877.2 (c)). This list will not differentiate whether a water right holder has received authorization to continue diversions pursuant to certain authorized exceptions.
You can search this list by water right identification number (water right ID), owner name, water right type, or location by county. Updates to the Curtailment Status List will be noticed through the Russian River Drought email distribution list. To sign up, please visit the Email Subscription List below.
How to Report an Unauthorized Diversion or Water Waste

Visit the CalEPA Complaint System to report unauthorized diversions, such as violations of water right permits or diversions impacting fisheries.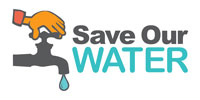 Visit savewater.ca.gov to report water waste, such as leaks and overwatering, to your local water agency.
Stay informed
Email Subscription List
Subscribe to the Russian River Drought email list to receive notifications and the latest updates.
Check your email account for a confirmation email to complete your subscription.