Kerckhoff Hydroelectric Project
Federal Energy Regulatory Commission (FERC) Project No. 96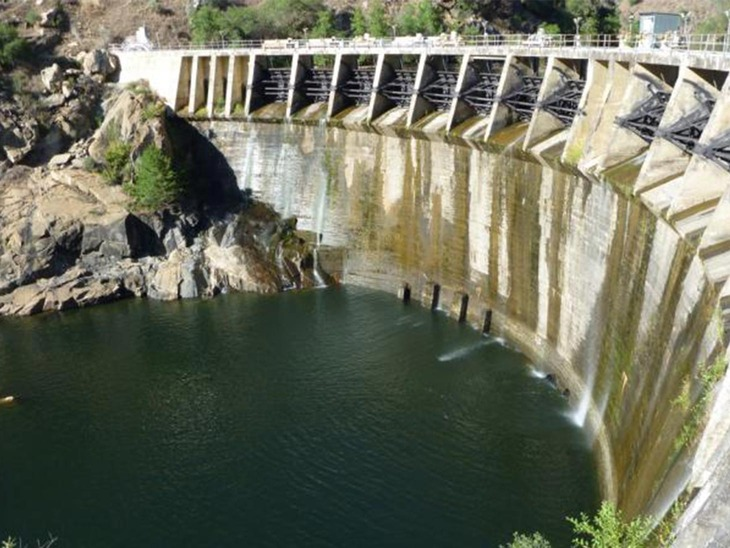 Kerckhoff Dam
(Image provided by PG&E)
Applicant: Pacific Gas and Electric Company, Inc. (PG&E)
County: Fresno and Madera
License Expiration Date: November 30, 2022
Water Quality Certification Status: Awaiting Application
Waterbody: San Joaquin River
FERC Licensing Process: Integrated Licensing Process
Project Description:
The Kerckhoff Hydroelectric Project (Project) is located on the San Joaquin River. The Project is located approximately 25 miles northeast of the city of Fresno. The primary purpose of the Project is hydropower.
The Project has an authorized or proposed installed generating capacity of 162,720 kilowatts and consists of Kerckhoff Reservoir formed by Kerckhoff Dam, two powerhouses, two tunnels that convey water from the reservoir to the powerhouses, and appurtenant facilities and access roads. The Project also includes one developed recreation facility located on the northeast end of Kerckhoff Reservoir, referred to as Smalley Cove Recreation Area.
The Project facilities are located on public and private lands primarily owned by the U.S. Forest Service (Sierra National Forest), the Bureau of Land Management (BLM), and PG&E. The Project is located within the upper San Joaquin River basin, which is highly developed for hydroelectric generation, flood control, and irrigation storage. PG&E's Crane Valley Hydroelectric Project (FERC Project No. 1354) and Southern California Edison's (SCE's) Big Creek Hydroelectric System are located upstream of the Kerckhoff Hydroelectric Project. Accordingly, the Project is operated to make maximum use of the water supply available from the upstream hydroelectric projects. Water utilized by the Kerckhoff Hydroelectric Project is released into the San Joaquin River and flows into Millerton Lake, located immediately downstream of the Kerckhoff 2 Powerhouse. Millerton Lake is part of the Central Valley Project and is owned by the U.S. Bureau of Reclamation.
Related Documents
California Environmental Quality Act (CEQA)
FERC Related Documents
PG&E's website for the Project contains more information and many documents related to the relicensing.