Potter Valley Hydroelectric Project
Federal Energy Regulatory Commission (FERC) Project No. 77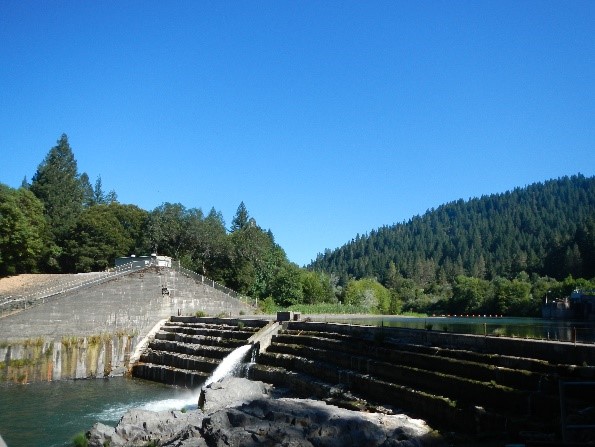 Cape Horn Dam
Applicant: Pacific Gas & Electric Company (PG&E)
County: Mendocino and Lake Counties
License Expiration Date: April 14, 2022
Water Quality Certification Status: Awaiting Application
Waterbody: Eel River and East Branch Russian River
FERC Licensing Process: Surrender and Decommissioning
Project Description:
The Potter Valley Hydroelectric Project (Project) is located on the Eel River and the East Branch Russian River in Mendocino and Lake Counties, approximately 15 miles northeast of the City of Ukiah. The uppermost portion of the Project includes Scott Dam (a 130-feet high concrete dam) and its associated storage reservoir, Lake Pillsbury (66,867 usable acre-feet), on the Eel River. Below Scott Dam, the Eel River flows approximately 12 miles to Cape Horn Dam (a 63-feet high earthen and concrete dam) and its associated reservoir, Van Arsdale Reservoir (390 usable acre-feet). At Van Arsdale Reservoir, a portion of the water is diverted south to the 9.2-megawatt Potter Valley Powerhouse by a series of tunnels, conduits, and penstocks that discharge into the East Branch Russian River which flows into Lake Mendocino. The water remaining in the Eel River is released from, or spills over, Cape Horn Dam, where it flows northwest approximately 150 miles to the Pacific Ocean.  
Cape Horn Dam has fish passage facilities, allowing salmon, steelhead, and lamprey access to the Eel River and tributary streams between Cape Horn and Scott Dams. There are no fish passage facilities at Scott Dam.
Project FERC License:
PG&E's license for the Project expired on April 14, 2022.  On April 21, 2022, the Federal Energy Regulatory Commission (FERC) issued a notice authorizing PG&E to continue operation of the Project under an annual license in accordance with the terms and conditions of PG&E's October 4, 1983 FERC license, as amended on January 28, 2004.  On July 8, 2022, PG&E filed with FERC a plan and schedule to submit a license surrender application for the Project within 30 months of FERC's approval of the plan and schedule.  On July 29, 2022, FERC approved PG&E's plan and schedule and noted the surrender application is expected to be filed with FERC by January 2025. 
Related Documents
FERC License Proceeding
FERC Relicensing