Spring Gap-Stanislaus Hydroelectric Project
Federal Energy Regulatory Commission (FERC) Project No. 2130
Applicant: Pacific Gas & Electric Company (PG&E)
County: Tuolumne
License Expiration Date: March 31, 2047
Water Quality Certification Status: Final issued June 16, 2009
Waterbody: Middle and South Fork Stanislaus River
FERC Licensing Process: Traditional Licensing Process



The Spring Gap–Stanislaus Hydroelectric Project (Project) is located on the Middle and South Forks of the Stanislaus River in the Sierra Nevada Mountain Range. Project features range in elevation from about 7,300 feet at Relief Reservoir to 1,000 feet at Stanislaus Powerhouse. Access to the upper regions of the Project is via State Highway 108 (Sonora Pass) and a series of U.S. Forest Service maintained dirt roads. Access to the lower regions is via Highway 49 and Camp Nine Road.

Under PG&E's new license, the Project is operated similar to historical operations, with the major differences being modified minimum streamflow regimes, modified reservoir operations, and new environmental measures to address best management practices and environmental laws that did not exist at the time of the original FERC license in the 1950's.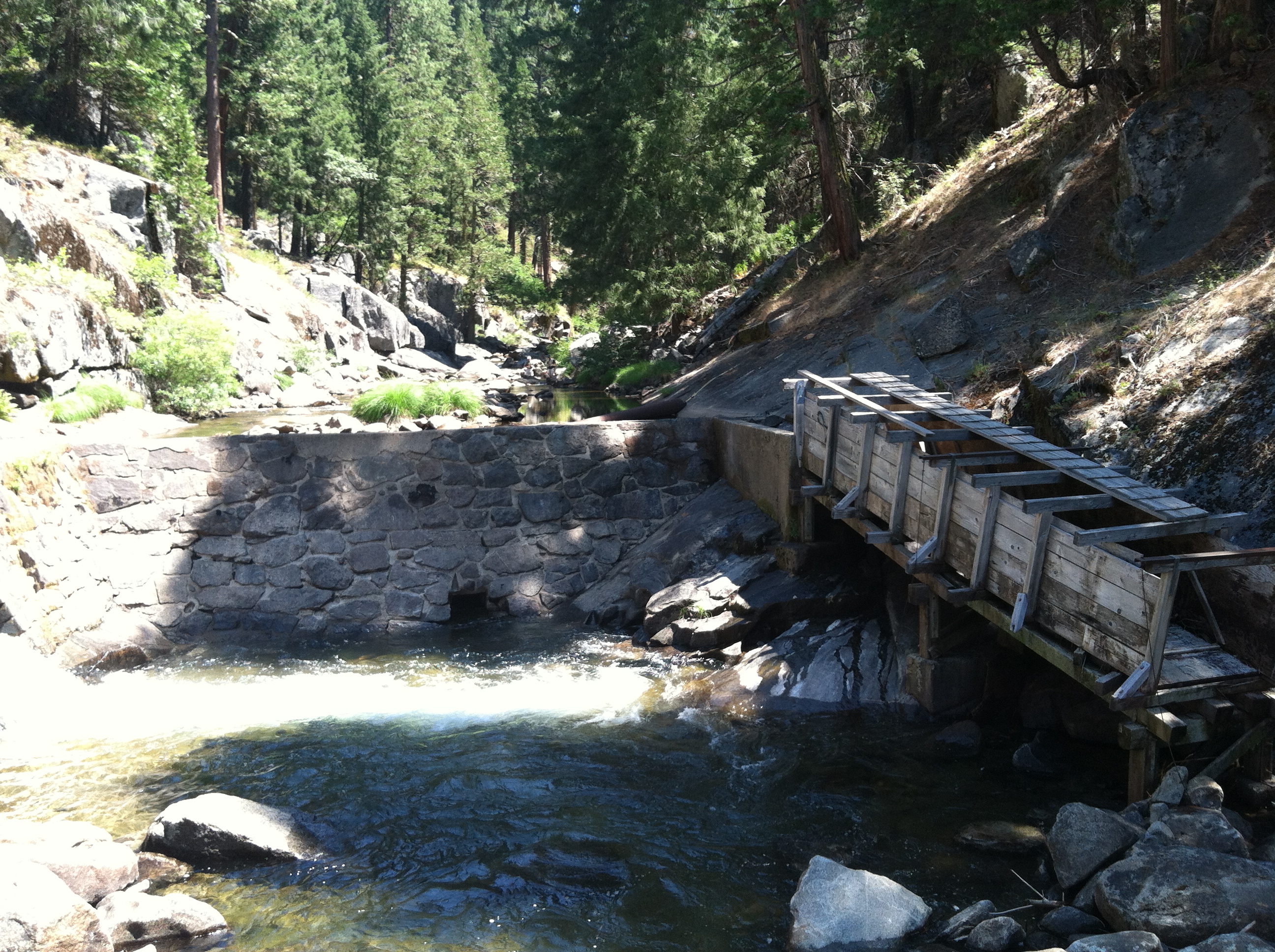 Philadelphia Diversion
Image provided by State Water Board staff.
There are four main developments in the Project, Relief Dam, Strawberry Dam (Pinecrest Lake), the Spring Gap Powerhouse, and the Stanislaus Powerhouse. Between Relief Dam and the other Project developments is the Beardsley/Donnells Project (FERC No. 2005) owned by the Tri‑Dam Project Authority. As part of the new license for the Project, the Stanislaus Afterbay Dam has been removed and PG&E will operate a fish screen at the intake to the Stanislaus Power Tunnel.
Relief Reach–Kennedy Meadows Riparian Restoration and Streambank Stabilization Project (Kennedy Meadows)
PG&E is required by the Federal Energy Regulatory Commission license for the Project to evaluate riparian and streambank conditions in upper Kennedy Meadows (Project Reach) on the Middle Fork Stanislaus River below Relief Dam and to develop and implement vegetation restoration and streambank stabilization measures. These requirements derive from Article 401 of the License, which implements the United State Department of Agriculture–Forest Service (Forest Service) Condition 4(e) and Condition 9 of the State Water Board 401 Water Quality Certification.
The Project proposes streambank stabilization and enhancement of riparian and aquatic habitats within the Project Reach. The streambank stabilization and riparian restoration measures are proposed along a 3,000–linear foot reach along the Middle Fork Stanislaus River. The proposed measures include a combination of various bioengineering techniques, including streambank grading, wood and rock placement, and native vegetation planting. Toe rock additions and root wad series are proposed in areas with more recent and severe active streambank erosion, and where flow velocities are higher during high flows compared to the other treatment areas. Split rail fencing will also be installed in two segments at the downstream end of the Project Reach to protect the restored vegetation and banks. A river access area utilized by recreationists and cattle will remain open to focus access to the river.
Pinecrest Reservoir Minimum Lake Level
PG&E requested a modification to Condition No. 4 of its water quality certification (certification) for the Project, issued by the State Water Board under Order WR 2009–0039. Currently, Condition No. 4 requires that after spill ends each year, PG&E maintain a pool elevation above 5,608 feet in the Pinecrest Reservoir prior to and including Labor Day. In addition, PG&E is required to prepare a drawdown curve for Pinecrest Reservoir by April 15 of each year, which estimates the lake level at Labor Day for that year. After Labor Day, Pinecrest Reservoir is allowed to release water from Strawberry Dam down to a minimum storage of 500 acre–feet. Pinecrest Lake is drawn down by an additional 71 to 94 feet after Labor Day to generate hydropower, provide water supply to downstream users, and satisfy minimum instream flows requirements.
As part of the certification, PG&E was required to complete a Pinecrest Reservoir lake level study to identify the impacts to recreation from lake levels below 5,608 feet before Labor Day. PG&E completed this study in April 2011, and subsequently submitted the above–referenced request to the State Water Board to revise Condition No. 4. The lake level study identified impacts to certain recreational uses as a result of lower lake levels before Labor Day, and PG&E put forth a mitigation plan to address the impacts identified in the lake level study when it made the modification request.
State Water Board staff held a public workshop in October 2012 to gather comments on PG&E's modification request. The State Water Board is evaluating PG&E's modification request and is currently preparing an environmental document to comply with the California Environmental Quality Act (CEQA). The CEQA document will disclose the impacts of the requested modification to Project operations.
PG&E's website for Pinecrest Lake contains more information about the management of the lake for recreation and power generation.
Related Documents
Spring Gap-Stanislaus (FERC Project 2130) Licensing
Kennedy Meadows Project Information
Modification Request for Pinecrest Reservoir Lake Levels
Other Post Certification Actions
Drought Information