National Pollutant Discharge Elimination System (NPDES)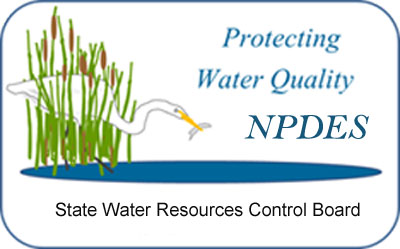 Spray Application
The Spray Applications Permit covers the point source discharge of biological and residual chemical pesticides to waters of the U.S. resulting from spray applications by the California Department of Food and Agriculture.  The permit does not cover California of Food and Agriculture discharges on tribal lands which are regulated by a federal permit.
Hot News!
The Spray Applications Permit will be expiring in February 2016 and upon reissuance will include the changes described below:
Changing the permit from a general permit to an individual permit and naming the California Department of Food and Agriculture as the sole agency covered by the individual statewide permit;
Removing toxicity testing requirements based on toxicity studies conducted under the Vector Control Permit, Order 2011-0002-DWQ;
Regulating active ingredients instead of pesticide products, resulting in deletion of Attachment E which lists pesticide products regulated by the permit; and
Adding language that delegates the State Water Board's authority to the Executive Director or his/her designee to:

Add active ingredients that are registered by the California Department of Pesticide Regulation for spray applications and used by the California Department of Food and Agriculture. Add receiving water limitations to corresponding newly added active ingredients; and
Grant a regulatory exception to the California Department of Food and Agriculture from complying with pollutant receiving water limitations pursuant to the California Ocean Plan and/or the Policy for Implementation of Toxics Standards for Inland Surface Waters, Enclosed Bays, and Estuaries of California.
Quick Links
Current Permit | Fees | Ex Parte Disclosure |

NOIs/PAPs/NOTs | Archives | Contacts
Current Permit
Fees
Fee Schedule (NPDES Permit Fees)

Vector Control - See Section 2200(b)(6) for the permit term fee.
Other Pesticides Permits - See Category 3 of Section 2200(b)(9) for the base annual fee.

Please Note: The California Water Code requires the State Water Board to adjust the fees each fiscal year to conform with the revenue levels set forth in the California Budget Act. Thus, the fees could change every year.
Any pending Board item is subject to the ex parte communication disclosure requirements of Water Code section 13287. Any communications between interested persons and board members (other than at a noticed board meeting or submitted as a comment letter in compliance with the public notice) must be disclosed by the interested person within seven days of the communication. Sample disclosure forms are available.

Beginning 14 days before scheduled adoption by the Board, ex parte communications between interested persons and board members concerning any Board item are prohibited.
Notice of Intents (NOI), Pesticide Application Plans (PAP), and Notice of Terminations (NOT)
| Applicant/Discharger | Notice of Intent (NOI) / Pesticide Application Plan (PAP) | Comments Due / Received | Revised Pesticide Application Plan (PAP) | Notice of Termination (NOT) |
| --- | --- | --- | --- | --- |
| California Department of Food and Agriculture | NOI & PAP | 09/15/2011 | Revised PAP | |
Contacts