National Pollutant Discharge Elimination System (NPDES)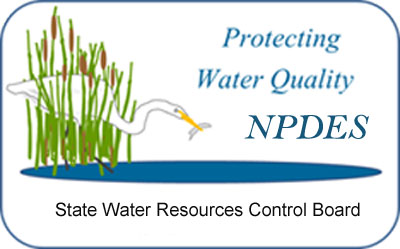 Vector Control
This Vector Control Permit covers the point source discharge of biological and residual chemical pesticides to waters of the U.S. resulting from direct and spray applications for vector control. This permit only covers larvicides and adulticides that are currently registered by the California Department of Pesticide Regulation.
Quick Links
Announcements | Current Permit | Fees | Ex Parte Disclosure |

NOIs/PAPs/NOTs | Archives | Contacts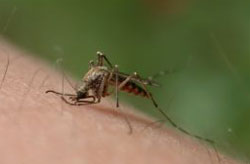 Announcements
Current Permit
On March 1, 2016, the State Water Board reissued the Vector Control in Permit Water Quality Order 2016-0039-DWQ which became effective on July 1, 2016. Water Quality Order 2016-0039-DWQ includes the changes described below:
Fees
Please Note: The California Water Code requires the State Water Board to adjust the fees each fiscal year to conform with the revenue levels set forth in the California Budget Act. Thus, the fees could change every year.
Notice of Intents (NOI), Pesticide Application Plans (PAP)
Discharger
New Notice of Intent (NOI)/ Pesticide Application Plan (PAP)
Comments Due
Coalition Member
(Y/N)
Butte County Mosquito and Vector Control District
NOI/PAP
04/18/16
Y
Coachella Valley Mosquito and Vector Control District
NOI/PAP
04/18/16
Y
Colusa Mosquito Abatement District
NOI/PAP
04/18/16
Y
Compton Creek Mosquito Abatement District
NOI/PAP
04/18/16
Y
Lake County Vector Control District
NOI/PAP
04/18/16
Y
Nevada County Community Development Agency Mosquito Control Program
NOI/PAP
04/18/16
Y
Sac-Yolo Mosquito and Vector Control District
NOI/PAP
04/18/16
Y
Tehama County Mosquito Control District
NOI/PAP
04/18/16
Y
Turlock Mosquito Abatement District
NOI/PAP
04/18/16
Y
Northwest Mosquito and Vector Control District
NOI/PAP
04/21/16
Y
Marin/Sonoma Mosquito and Vector Control District
NOI/PAP
05/05/16
Y
Kings Mosquito Abatement District
NOI/PAP
05/05/16
Y
Santa Clara County Vector Control District
NOI/PAP
05/05/16
Y
West Side Mosquito & Vector Control District
NOI/PAP
05/05/16
Y
Sutter-Yuba Mosquito & Vector Control District
NOI/PAP
05/05/16
Y
East Side Mosquito Abatement District
NOI/PAP
05/05/16
Y
Placer Mosquito and Vector Control District
NOI/PAP
05/05/16
Y
Shasta Mosquito and Vector Control District
NOI/PAP
05/05/16
Y
Merced County Mosquito Abatement District
NOI/PAP
05/18/16
Y
West Valley Mosquito and vector Control District
NOI/PAP
05/18/16
Y
Glenn County Mosquito and Vector Control District
NOI/PAP
05/18/16
Y
Consolidated Mosquito Abatement District
NOI/PAP
05/18/16
Y
San Bernardino County
NOI/PAP
05/18/16
Y
Tulare Mosquito Abatement District
NOI/PAP
05/18/16
Y
Alameda County Mosquito Abatement District
NOI/PAP
05/30/16
Y
Delano Mosquito Abatement District
NOI/PAP
05/30/16
Y
Delta Vector Control District
NOI/PAP
05/30/16
Y
Fresno Westside Mosquito Abatement District
NOI/PAP
05/30/16
Y
Greater Los Angeles County Vector Control District
NOI/PAP
05/30/16
Y
Kern Mosquito and Vector Control District
NOI/PAP
05/30/16
Y
Long Beach City DHHS
NOI/PAP
05/30/16
Y
Madera County Mosquito & Vector Control District
NOI/PAP
05/30/16
Y
Napa County Mosquito Abatement District
NOI/PAP
05/30/16
Y
Northern Salinas Valley Mosquito Abatement District
NOI/PAP
05/30/16
Y
Westlake Lake Management Association
NOI/PAP
05/30/16
N
Alameda County Vector Control Services District
NOI/PAP
06/06/16
Y
Burney Basin Mosquito Abatement District
NOI/PAP
06/06/16
Y
City of Moorpark
NOI/PAP
06/06/16
Y
County of Los Angeles Department of Public Works
NOI/PAP
06/06/16
N
June Lake Public Utility District
NOI/PAP
06/06/16
Y
Mosquito and Vector Management District of Santa Barbara County
NOI/PAP
06/06/16
Y
Naval Base Ventura County Point Mugu
NOI/PAP
06/06/16
N
Orange County Mosquito and Vector Control District
NOI/PAP
06/06/16
Y
Owens Valley Mosquito Abatement Program BDA Mammoth Lakes Mosquito Abatement District
NOI/PAP
06/06/16
Y
Saddle Creek Community Services District
NOI/PAP
06/06/16
Y
San Diego County Department of Environmental Health - Vector Control Program
NOI/PAP
06/06/16
Y
San Joaquin County Mosquito and Vector Control District
NOI/PAP
06/06/16
Y
Santa Cruz County Mosquito and Vector Cotnrol
NOI/PAP
06/06/16
Y
Solano County Mosquito Abatement District
NOI/PAP
06/06/16
Y
Ventura County Environmental Health Division
NOI/PAP
06/06/16
Y
City of Alturas
NOI/PAP
06/13/16
Y
County of El Dorado and Vector Control CSA 3
NOI/PAP
06/13/16
Y
Fresno Mosquito and Vector Control District
NOI/PAP
06/13/16
Y
Oroville Mosquito Abatement District
NOI/PAP
06/13/15
Y
San Mateo County Mosquito and Vector Control
NOI/PAP
06/13/16
Y
Rancho Murieta Community Services District
NOI/PAP
06/13/16
Y
Riverside County Vector Control Program
NOI/PAP
06/13/16
Y
Contra Costa Mosquito and Vector Control District
NOI/PAP
06/15/16
Y
San Francisco County (Agurto Corporation dba. Pestec)
NOI/PAP
06/20/16
N
Imperial County Public Health Department Vector Control Program
NOI/PAP
06/20/16
Y
Pine Grove Mosquito Abatement District
NOI/PAP
06/20/16
Y
Durham Mosquito Abatement District
NOI/PAP
06/24/16
Y
Marine Corps Base Camp Pendleton
NOI/PAP
06/27/16
N
San Gabriel Valley Mosquito and Vector Control District
NOI/PAP
06/27/16
Y
Los Angeles County West Vector Control District
NOI/PAP
06/30/16
Y
South Fork Mosquito Abatement District
NOI/PAP
10/03/16
Y
Citizens Development Corporation
NOI / PAP
08/20/18
Contacts
Gurgagn Chand
Gurgagn.Chand@waterboards.ca.gov
(916) 341-5780