National Pollutant Discharge Elimination System (NPDES) Pesticides - Weed Control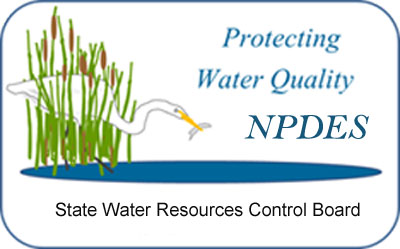 Overview
The State Water Resources Control Board adopted the Statewide General National Pollutant Discharge Elimination System (NPDES) Permit for Residual Aquatic Pesticide Discharges to Waters of the United States from Algae and Aquatic Weed Control Applications, Water Quality Order 2013-0002-DWQ, for the reissuance of General NPDES Permit CAG990005 in June 2013. Order 2013-0002-DWQ became effective on December 1, 2013.
Except for discharges on tribal lands that are regulated by a federal permit, this General Permit covers the point source discharge to waters of the United States of residues resulting from pesticide applications using products containing 2,4-D, acrolein, copper, diquat, endothall, fluridone, glyphosate, imazamox, imazapyr, penoxsulam, sodium carbonate peroxyhydrate, and triclopyr-based algaecides and aquatic herbicides, and adjuvants containing ingredients represented by the surrogate nonylphenol.
This General Permit covers only discharges of algaecides, and aquatic herbicides that are currently registered for use in California, or that become registered for use and contain the above-listed active ingredients and ingredients represented by the surrogate of nonylphenol.
To apply for coverage under Order 2013-0002-DWQ, submit Items 1-3 to the address shown in Item 4 below:
A Notice of Intent shown as Attachment E of Order 2013-0002-DWQ, signed in accordance with the signatory requirements of the Standard Provisions in Attachment B;
An application fee of $2062 (New fee amount for FY13/14.) A fee is required only for new dischargers. Dischargers that were enrolled under Order 2004-0009-DWQ should have been billed in October 2013. If they have paid their bill and are applying for coverage under Order 2013-0002-DWQ, they do not need to submit a filing fee since they will be billed during the regular billing cycle;
An Aquatic Pesticide Application Plan (APAP). Dischargers that were enrolled in Order 2004-0009-DWQ may not have to submit a new APAP, but will have to amend their existing APAP to comply with requirements of the Order 2013-0002-DWQ. See Section VIII.C, page 9, of the Order 2013-0002-DWQ for details; and
Mailing Address: NPDES Wastewater Unit, State Water Resources Control Board, 1001 I Street, 15th Floor, Sacramento, CA 95814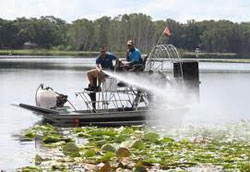 Quick Links
Hot News! | Exception | Current Permit | Fees | Ex Parte Disclosure |

NOIs/APAPs/NOTs | Archives | Contacts | Additional Information
Hot News!
Staff is proposing to amend Order 2013-0002-DWQ (as amended by Order 2014-0078-DWQ, 2015-0029-DWQ, and 2016-0074-EXEC) to add South San Joaquin Irrigation District and Madera-Chowchilla Water & Power Authority to the SIP exception list in Attachment G of the permit. The Draft Order, Public Notice, and SIP Exception CEQA documentation are available for review in the following links:
Exception
Sixth Circuit Court Ruling on National Cotton Council of America v. U.S. EPA (553 F.3d 927 (6th Cir., 2009))
On January 11, 2009, the Sixth Circuit Court of Appeals ruled that pesticide applications at, near, or over water must be covered by an NPDES permit. Thus, algaecide and aquatic herbicide applications in California must be covered by the Aquatic Weed Control Permit currently being implemented under State Water Board Order 2013-0002-DWQ.
State Implementation Policy Exception for Acrolein and Copper
Section 5.3 of the State Water Board Policy for Implementation of Toxics Standards for Inland Surface Waters, Enclosed Bays, and Estuaries of California or SIP allows exceptions to meeting priority pollutant criteria/objectives if the State Water Board or Regional Water Quality Control Boards determine the exception to be necessary to implement control measures either:
for resource or pest management (i.e., vector or weed control, pest eradication, or fishery management) conducted by public entities or mutual water companies;
for drinking water conducted to fulfill statutory requirements under the federal Safe Drinking Water Act or the California Health and Safety Code.
Dischargers do not need a SIP exception to get covered under State Water Board Order 2013-0002-DWQ. However, since the order allows an exception to receiving water limitations for acrolein and copper, which are the only two priority pollutants regulated by the order, dischargers may apply for an exception at their discretion. To get an exception, dischargers must submit the following information to the address shown in Item 4 above:
A detailed description of the proposed action, including the proposed method of completing the action;
A time schedule;
A discharge and receiving water quality monitoring plan (before project initiation, during the project, and after project completion, with the appropriate quality assurance and quality control procedures);
Documentation of compliance with the California Environmental Quality Act;
Contingency plans;
Identification of alternate water supply (if needed); and
Residual waste disposal plans.
Upon completion of the project, the discharger shall provide certification by a qualified biologist that the receiving water beneficial uses have been restored.
Current Permit
Current Permit: Water Quality Order 2013-0002-DWQ (effective 12/01/2013, expires 11/30/2018)
Note, this permit is not conformed for amendments made by Water Quality Order 2014-0078-DWQ on 5/20/2014, Water Quality Order 2015-0029-DWQ on March 3, 2015, and Water Quality Order 2016-0073-EXEC on June 30, 2016. See also the amending Orders below for full permit requirements
Expired Permit: Water Quality Order 2004-0009-DWQ (expired 11/30/2013)
Fees
Fee Schedule (NPDES Permit Fees)

Vector Control - See Section 2200(b)(6) for the permit term fee.
Other Pesticides Permits - See Category 3 of Section 2200(b)(9) for the base annual fee.

Please Note: The California Water Code requires the State Water Board to adjust the fees each fiscal year to conform with the revenue levels set forth in the California Budget Act. Thus, the fees could change every year.
Any pending Board item is subject to the ex parte communication disclosure requirements of Water Code section 13287. Any communications between interested persons and board members (other than at a noticed board meeting or submitted as a comment letter in compliance with the public notice) must be disclosed by the interested person within seven days of the communication. Sample disclosure forms are available.

Beginning 14 days before scheduled adoption by the Board, ex parte communications between interested persons and board members concerning any Board item are prohibited.
Notice of Intents (NOI), Aquatic Pesticide Application Plans (APAP), and Notice of Terminations (NOT)
Comments may be submitted via email to: Gurgagn Chand, WRCE at Gurgagn.Chand@waterboards.ca.gov or by mail to: Gurgagn Chand, WRCE at State Water Resources Control Board, Division of Water Quality, 1001 I St, 15th Floor, Sacramento, CA 95814. Comments received after Noon on the comment due date will not be considered.
Additional Information
Weed Control permit presentation for EPA Region 9 Harmful Algal Blooms Meeting (4/27/2017):

Permitting Requirements for Algae and Aquatic Weed Control Presentation Slides
Contacts