CONNECT WITH US &nbsp
Bioassessment
Biological assessment (bioassessment) is an evaluation of the condition of a waterbody based on the organisms living within it. It involves surveying the types and numbers of organisms present in the water and comparing the results to established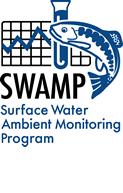 benchmarks of biological health. Scientists and managers around the world use this approach to directly and quantitatively measure the ecological health of a waterbody and to monitor the cumulative impacts of environmental stressors on surface waters.
Benthic macroinvertebrates (BMIs) and benthic algae are the primary biota used for bioassessments in California. BMIs are a diverse group of small but visible animals that live at the bottom of rivers and streams. They are comprised mostly of aquatic insects but also include crustaceans, mollusks, and worms. BMI assemblages are found in most waterbodies and are reliable indicators of biological health because they are relatively stationary and respond predictably to a variety of environmental stressors. Benthic algae are also sensitive to environmental stressors and provide environmental condition information that is often complementary to that derived from BMI assemblages. Because of their short lifespans and rapid reproduction rate, algae can respond quickly to changing water conditions. They are also more directly responsive to nutrients (such as nitrogen and phosphorus) and are therefore suited for monitoring nutrient runoff, one of the major environmental stressors in California.
SWAMP began conducting bioassessment in 2000. The program continues to work closely with the California Department of Fish and Wildlife's (CDFW) Aquatic Bioassessment Laboratory, which has been the primary producer of this technical work. Other major partners include the Southern California Coastal Water Research Project (SCCWRP) and the California State University experts at Chico, San Jose and San Marcos.
New Releases
Website Navigation
| | |
| --- | --- |
| | An overview of SWAMPs statewide bioassessment program, consisting of the Perennial Streams Assessment (PSA) probability survey and Reference Condition Management Program (RCMP). |
| | SWAMP-developed tools for data entry, interpretation, and reporting. Includes the California Stream Condition Index (CSCI) and ecoregion-based Indices of Biological Integrity (IBIs). |
| | Tools and other helpful resources for identifying BMIs and algae. Includes worksheets, datasheets, and online tools. |
| | Standard Operating Procedures (SOPs) are instructions describing how to perform a specific method or activity. In order to be SWAMP-comparable, bioassessment sampling must be conducted according to SWAMP's SOPs. |
| | SWAMP offers various training opportunities in bioassessment through the CDFW and Water Boards Training Academy. Includes calibration exercises, field audits, and the California Aquatic Bioassessment Workgroup meeting. |
| | A selection of technical reports, management memos, fact sheets, and other documents related to SWAMP's work in bioassessment. |
| | Online resources related to SWAMP and bioassessment. |