Governor's Executive Orders N-7-23 & N-4-23 For Flood Diversion
All diverters that began diverting by June 1, 2023, under EO N-4-23, do not need to file a new initial report.  For your final report, please use the approved form for N-4-23.  Please submit your final report by September 15, 2023.
If diversion began after June 1, 2023, and diversion qualifies under the conditions of EO N-7-23, please use the approved N-7-23 form for initial and final reporting.  Please submit your final report by September 15, 2023.
You may qualify to divert flood waters under EO N-7-23:
Any diversion of floodwaters directly from the (i) Tulare Lake Basin or rivers or streams or bypasses flooding the Tulare Lake Basin or (ii) the San Joaquin River or San Joaquin River tributaries (including Fresno Slough and James Bypass) or San Joaquin River bypasses must occur between March 31, 2023, and August 31, 2023, for flood management purposes.
All authorized flood flow diverters must file two reports with the board:
(1) an initial report within 14 days of initial diversions and
(2) a final report by June 15, 2023 (if diversion ends before June 1st) and September 15, 2023 (diversion ends after June 1st).
The reports must identify the diverter and include the conditions that triggered the diversions, the point of diversion, the flooded area, when diversions occurred and ceased, and the amount of water diverted.
Reports must be completed using the appropriate fillable forms and then emailed to FloodDiversion@waterboards.ca.gov
All flood diversion reports received pursuant to EO N-7-23 and N-4-23 will be posted on this webpage.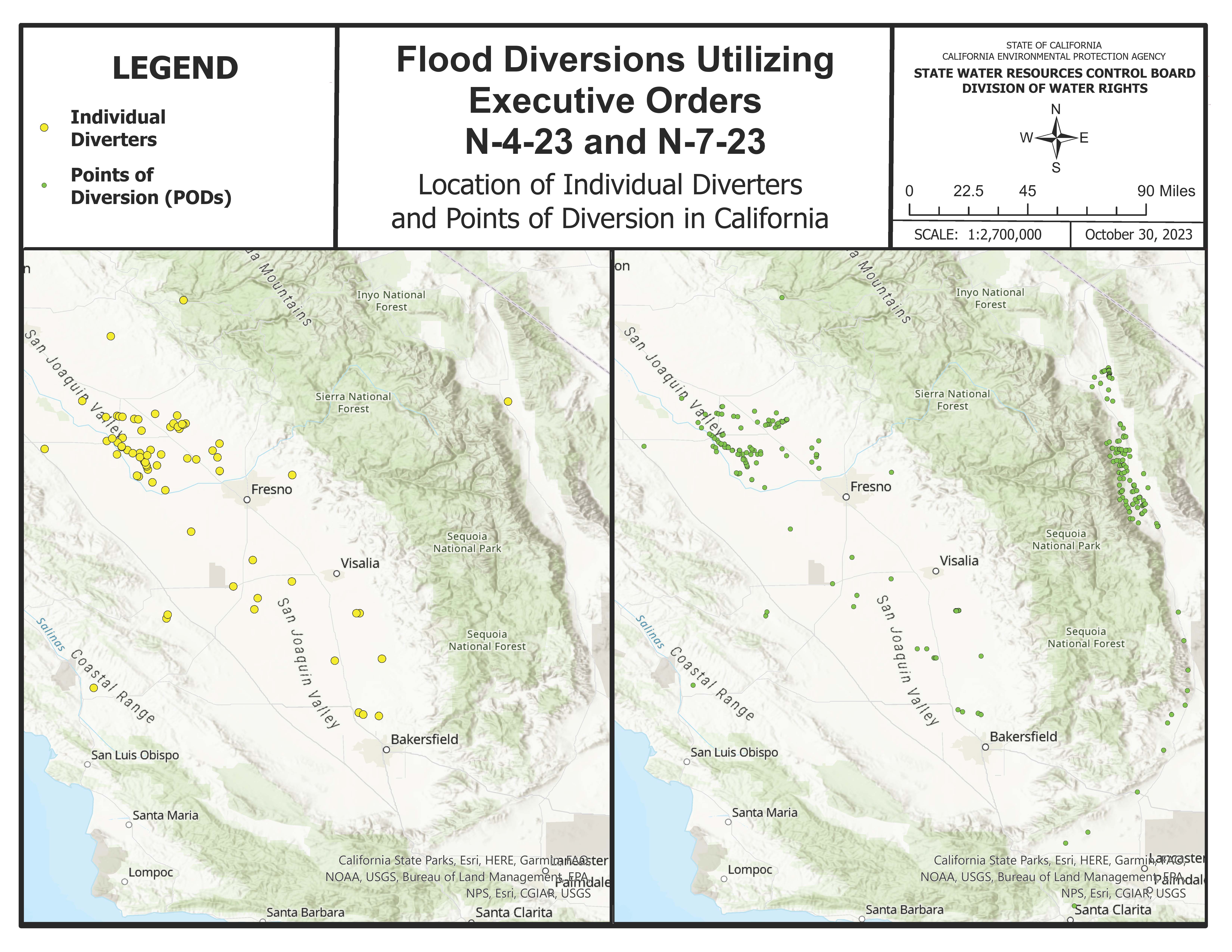 ---
Resources:
Diversion of Flood Flows for Groundwater Recharge
Reporters Utilizing Suspension
Submittal
Report Date
Diversion Began
Diversion Ends
Diverter Name
Entity Declaring Flood Threat
Acre Feet
Acres
Attachments
1
3/22/2023
3/10/2023
7/27/2023
Bapu Farming
Lower San Joaquin Levee District/ Madera County
1195
1735
Map
Report
2
3/22/2023
3/10/2023
7/28/2023
Gurtaj Samran
San Joaquin Lower Levee District/Madera County Flood Control
1150
800
Map
Report
3
3/22/2023
3/10/2023
5/11/2023
Kevin Herman Ranches
Merced subbasin GSA
54
400
Map
Report
4
3/23/2023
3/29/2023
8/15/2023
Clarke Bros. Farming
Madera County
66
54
Map
Report
5
3/23/2023
4/3/2023
5/1/2023
Creekside Land Company
Madera County county flood control & lower SJ levee district
361
200
Map
Report
Final Report
6
4/21/2023
3/13/2023
5/1/2023
Cederquist Farms
Madera County - Chowchilla Subasin
306
300
Map
Report
7
3/23/2023
3/10/2023
Santokh Toor
San Joaquin Lower Levee District/ Madera County Flood Control
50
1220
Map
Report
8
3/23/2023
3/11/2023
7/29/23
Diamond H
Madera County Flood Control Agency, Lower San Joaquin Levee District
1219
500
Map
Report
9
3/24/2023
3/10/2023
7/31/2023
Triangle T Partners LLC
Lower San Joaquin Levee District/ Madera County Flood Control Agency
241
375
Map
Report
Final Report
10
3/24/2023
3/10/2023
7/26/2023
Verwey Farms
Madera County GSA
1163
540
Map
Report
11
3/24/2023
3/30/2023
4/10/2023
Faust Family Dairy
Madera County Flood Agency and the lower San Joaquin levee District
25
600
Map
Report
12
3/23/2023
3/10/2023
6/01/2023
Coasta View Farms 2
Madera County
14,090
2,734
Map
Report
Final Report
13
3/24/2023
3/10/2023
7/31/2023
Vlot Calf Ranch Inc.
San Joaquin Levee District, Madera County Flood Control
5436
1399
Map
Report
Final Report
14
3/23/2023
3/10/2023
Toor Farming Laton
Fresno-Kings River; Kings River Conservation District, Laguna Irrigation District, Laton
290
96
Map
Report
15
3/23/2023
3/10/2023
8/14/2023
Forebay Farms
Madera County
490
2460
Map
Report
Final Report
16
3/24/2023
3/10/2023
7/31/2023
Cross Creek Farm
San Joaquin Levee District, Madera County Flood Control
2761
1399
Map
Report
Final Report
17
3/23/2023
3/10/2023
9/15/2023
AST Farms LLC
Kaweah Delta Water Conservation District,Kings County Water District, Kings County
1920
239
Map
Report
Final Report
19
3/23/2023
3/10/2023
5/19/2023
Vlot Family Farms
Lower San Joaquin Levee District
912
1798
Map
Report
20
5/6/2023
3/16/2023
4/11/2023
Russell Harris Farms
Madera County Flood Control and water conservation agency
648
1200
Map
Report
21
3/28/2023
3/10/2023
4/18/2023
Case Vyfhuizen
Merced subbasin GSA
120
5
Map
Report
22
3/28/2023
3/13/2023
5/31/23
Agri-World Cooperative
Madera County Flood Control Agency
14
1
Map
Report
23
3/23/2023
3/10/2023
5/15/2023
Toor Farming Earlimart 56
Pixley Irrigation District; Tulare county
21,160
2388
Map
Report
Final Report
24
3/23/2023
3/10/2023
Toor Farming Kansas
Kings River Conservation District; Kings County
4800
1840
Map
Report
25
3/23/2023
3/10/2023
7/10/2023
Toor Farming FB
Lower San Joaquin Levee District; Madera County
12,160
1280
Map
Report
Final Report
26
3/28/2023
3/15/2023
4/10/2023
Triple S Farms LP
Madera County GSA
164
100
Map
Report
27
3/29/2023
4/01/2023
4/30/2023
Campos Family Farms LLC
Madera County
148
10
Map
Report
28
3/29/2023
4/1/2023
7/24/2023
Stone Land Co
Kings River Conservation District
1649
620
Map
Report
29
3/28/2023
3/19/2023
7/26/2023
Lone Tree Mutual Water Company
Lower San Joaquin Levee District
7,914
5000
Map
Report
Final Report
30
3/31/2023
4/17/2023
7/25/2023
Duane and Andrea Blech Revocable Trust
Madera County
70
180
Map
Report
Final Report
31
3/30/2023
3/24/2023
5/4/2023
South Ranch LP
Madera County
34
35
Map
Report
32
4/3/2023
3/10/2023
Steven Fliflet
Merced subbasin GSA
50
80
Map
Report
33
4/3/2023
3/10/2023
Coasta View Almonds
Madera County
3700
2000
Map
Report
34
4/3/2023
3/21/2023
5/17/23
Manulife Investment Management (Premiere Almonds 15)
Kern County Board of Supervisors
92
15
Map
Report
35
3/31/2023
3/17/2023
7/31/23
River Grove Ranch Inc.
Madera County and Lower San Joaquin Levee District
408
1136
Map
Report
36
3/24/2023
3/20/2023
3/27/2023
San Luis Water District
Merced County Sheriff
37
10
Map
Report
37
4/3/2023
3/11/2023
7/26/2023
Tri-lest Dairy
Madera County GSA
1030
414
Map
Report
38
4/3/2023
3/11/2023
7/26/2023
lest Family Farms
Madera County GSA
1844
1436
Map
Report
39
4/1/2023
3/24/2023
6/1/23
Sutter Avenue Coalinga CA LP
Fresno County
289
1000
Map
Report
40
4/3/2023
3/11/2023
4/7/23
Manulife Investment Management (Tulare 32)
County of Tulare
18
10
Map
Report
41
4/3/2023
3/10/2023
8/31/2023
Manulife Investment Management (Madera 23 Ranch 1)
Madera Irrigation District, Madera Co Flood District
605
608
Map
Report
Final Report
42
4/03/2023
3/28/2023
8/4/2023
Manulife Investment Management (Madera 23 Ranch 2)
Chowchilla Irrigation District, Madera County Flood District 
614
726
Map
Report
Final Report
43
4/3/2023
3/10/2023
7/31/23
Manulife Investment Management (Madera 7)
Madera County & Aliso Water district
534
680
Map
Report
44
4/1/2023
3/27/2023
6/1/23
Firestone Avenue Coalinga CA LP
Fresno County
49
140
Map
Report
45
4/3/2023
3/10/2023
Kevin Herman Ranches -145 Ranch
Madera County Flood Control
35
400
Map
Report
46
4/6/2023
3/24/2023
8/31/2023
Oliver Farms LLC
Tulare County & Kings County, Lower Tule Irrigation District, Corcoran Irrigation District
4854
1618
Map
Report
Final Report
47
4/7/2023
3/12/2023
5/13/2023
Burgdorff Ranch
Chowchilla Water District & Madera County Water
226
2
Map
Report
Final Report
48
4/1/2023
3/11/2023
6/12/2023
White River Heifer Facility
Tulare County 
510
5
Map
Report
49
4/10/2023
3/11/2023
7/19/2023
Terranova Ranch Inc.
City of Mendota, City of Firebaugh
18,833
2374
Map
Report
Final Report
50
4/11/2023
DDC Management LLC
Merced County
2000
248
Map
Report
51
4/12/2023
3/13/2023
4/11/23
Singh Farms
Madera County Department of Water and Natural Resources
336
750
Map
Report
52
4/13/2023
3/15/2023
3/18/2023
Pitigliano Farms
Lower Tule River ID
465
155
Map
Report
53
4/13/2023
3/15/2023
3/18/2023
H&P Farms
Lower Tule River ID
336
112
Map
Report
54
4/14/2023
4/1/2023
4/15/2023
J. Lohr Vineyards Inc.
City of Gonzalez
12
245
Map
Report
55
4/14/2023
3/10/2023
7/31/2023
John Hancock Life Insurance (USA)
Madera County and San Joaquin Lower Levee District
22,505
12000
Map
Report
Final Report
56
4/18/2023
3/17/2023
Riverside Orchards LLC
Lower San Joaquin Levee District
43
680
Map
Report
57
4/5/2023
3/11/2023
DeJager Arthur
Merced subbasin GSA
25
201
Map
Report
58
4/5/2023
3/11/2023
DeJager, Edward & Cobi 1
Merced subbasin GSA
30
303
Map
Report
59
4/5/2023
3/11/2023
DeJager, Rodney L & Sharlene 1
Merced subbasin GSA
40
243
Map
Report
60
4/5/2023
3/11/2023
DeJager Arthur & Renae
County of Merced
40
160
Map
Report
61
4/5/2023
3/11/2023
DeJager, Rodney L & Sharlene 2
Merced subbasin GSA
60
954
Map
Report
62
4/5/2023
3/11/2023
DeJager, Rodney L & Sharlene 3
Merced subbasin GSA
75
1574
Map
Report
63
4/25/2023
4/1/2023
7/27/2023
Aliso Water District
Lower San Joaquin Levee District and the County of Madera
407
75
Map
Report
Final Report
64
4/5/2023
3/11/2023
DeJager, Edward & Cobi 2
Merced subbasin GSA
80
330
Map
Report
65
4/26/2023
3/10/2023
8/31/2023
Los Angeles Department of Water and Power
Inyo County, Kern County and Los Angeles County
244,030
30000
Map
Report
Final Report
66
5/09/2023
3/10/2023
4/18/2023
Kole Upton
Merced County
300
2
Map
Report
67
5/11/2023
4/12/2023
North San Joaquin Water Conservation District
San Joaquin County OES
5
1
Map
Report
68
4/27/2023
3/15/2023
Sundried Farms
Lower San Joaquin Levee District and the County of Madera
785
800
Map
Report
69
4/11/2023
4/11/2023
7/27/2023
Baker Farming Partnership
Lower San Joaquin Levee District
1380
1249
Map
Report
Final Report
70
6/16/2023
4/3/2023
7/30/2023
Lone Tree Creek Vineyards
Madera County GSA - Chowchilla subbasin
351
1900
Map
Report
71
7/5/2023
3/17/2023
6/16/2023
Clay and Paulette Haynes
Madera County GSA
200
182
Map
Report
72
7/25/2023
3/19/2023
6/25/2023
Malakan Investments LLC
Kern County Sheriffs Office, Kern County Fire Department
247
20
Map
Report
73
7/25/2023
5/15/2023
7/1/2023
BJL Farming LLC
Kern County Sheriffs Office, Kern County Fire Department
147
22
Map
Report
74
9/13/2023
4/4/2023
8/31/2023
Island Cattle Co. LLC
County of Kings
1291
430
Map
Final Report
75
9/14/2023
3/11/2023
4/21/2023
River Farm LLC
Madera County
79
100
Map
Final Report
76
9/15/2023
4/1/2023
7/30/2023
Agriland Farming
Madera County
436
455
Map
Final Report
77
9/15/2023
6/5/2023
7/24/2023
AJ Senders Dairy & Farms
Columbia Canal Co. Firebuagh, Madera County
370
150
Map
Final Report
78
9/19/2023
6/9/2023
7/24/2023
John E. Lasgoity
Lower San Joaquin Levee District
180
72
Map
Final Report
Submittal
Report Date
Diversion Began
Diversion Ends
Diverter Name
Entity Declaring Flood Threat
Acre Feet
Acres
Attachments